Westminster attack: Second victim named as Aysha Frade
Comments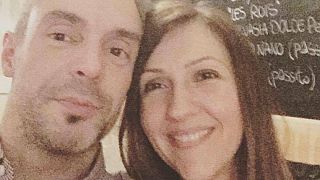 One of the two people killed on Westminster Bridge Wednesday during the worst terror attack to hit London since 2005 was identified as Aysha Frade.
According to La Voz de Galicia newspaper in Spain, Frade, 43, a British women with Galician origins, was killed when crossing Westminster Bridge.
The mother of two is thought to have been on her way to pick up her two daughters from school, when she was struck by the assailant driving toward the UK Parliament.
The youngest of three children, Frade mostly lived in London while her family and siblings worked and lived in Spain.
Her two sisters Silvia and Michelle manage an English academy in Betanzos, said La Voz, which reported the news of Frade's death shocked her family and neighbours.
Classes at the academy were suspended following the news.
Her death was confirmed by Ramon Garcia Vazquez, the mayor of the town of Betanzos.
In London Frade worked at the DLD College where she taught Spanish. She was "a highly regarded and loved" member of the staff.
"We are all deeply shocked and saddened at the news that one of the victims yesterday was a member of our staff, Aysha Frade," said Rachel Borland, the principal of the DLD College to iTV. "All our thoughts and our deepest sympathies are with her family. We will be offering every support we can to them as they try to come to terms with their devastating loss. She was highly regarded and loved by our students and by her colleagues. She will be deeply missed by all of us."
According to a caller to London's LBC radio station who knew Frade, Frade was "a great person".
One of Frade's daughters, the caller said, had recently got into the school she wanted to and was excited for the school year to come.
"All she ever did was say nice things about our kids," the caller who went by the name of James told LBC. "To my wife: your kids are so beautiful, they're really lovely kids. It's just a terrible thing that's happened."
According to Portuguese media, Frade was married to a Portuguese man named John Frade.
A neighbour expressed her shock and sadness upon hearing the news of Frade's death.
Video: A former neighbour of attack victim Aysha Frade speaks of her shock and sadness. pic.twitter.com/gFkYiDPm9d

— Catherine Wylie (@wyliecatherine) March 23, 2017
Her family in Spain are making their way to London and are expected to arrive Thursday afternoon.
Frade is the second person to be identified as a victim of Wednesday's attack in London.
Earlier British authorities said a police officer, PC Keith Palmer, 48, had died defending Parliament.
Another victim, who has not yet been identified, is said to be a man in his 50s.
In all, four people including the attacker died during Wednesday's attack in London.