Third victim named as US citizen Kurt Cochran
Comments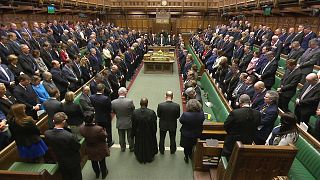 An American tourist has been named as the third victim. Kurt Cochran was in Europe with his wife Melissa to celebrate their 25th wedding anniversary, and had been due to return to the US on Thursday. His wife was being treated in hospital.
Aysha Frade, a British national was the second victim named. The wife and mother-of-two worked at DLD College. She was apparently on her way to collect her children when she was killed.
A minute's silence was held in parliament and in front of the headquarters of New Scotland Yard at 9.33am in London in honour of the victims of the attack on Westminster.
933 was the shoulder number on policeman Keith Palmer, who was stabbed to death. He was identified as the first victim of the attack.
Addressing MPs, the prime minister described PC Palmer as 'every inch a hero and his actions will never be forgotten".
The 48-year-old husband and father was killed as he tried to stop the attacker in the courtyard outside the Houses of Parliament.
The British premier has visited a hospital where many of the wounded were taken. Around 40 were injured, 29 are still being treated in hospital , and seven remain in a critical condition.
A vigil will be held in London's Trafalgar square this evening to pay tribute to the victims and the dozens injured.