Iraqi forces near ISIL-prized mosque in western Mosul
Comments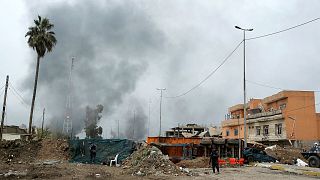 Iraqi government forces are meeting fierce resistance from ISIL militants as they close in on western Mosul. Since the US-backed Iraqi troops retook the eastern part of the city in December the focus has been to narrow in on the Old City but the battle to defeat the jihadists is being complicated by the 600,000 civilians who remain in the area. Attempts to evacuate locals are being hampered by militant snipers.
#iraq. Trapped and under fire for an hour in west #mosul from ISIS snipers. #MosulOffensivepic.twitter.com/0EEtaHgrMF

— Aris Messinis (@ArisMessinis) March 19, 2017
Government units are said to be edging towards the al-Nuri Mosque – that is where ISIL declared their caliphate in 2014.
"There are lots of snipers on top of the buildings in the Old City around the al-Nuri Mosque. We need to evacuate the families from inside as they using them as a shield when we are advancing on the mosque," said an Iraqi military spokesman.
The fighting has caused a humanitarian crisis. More than 350,000 have been displaced and the temporary camps are over flowing.
Ali Waadallah, a displaced Mosul resident said he had wanted to stay in one camp but had to leave as there were no tents. "They say there's no place in the other camp and that many are having to sleep on the streets."
Every week families are risking their lives to flee Mosul, Iraq https://t.co/I2pO7hWjcRpic.twitter.com/whsIQqiCvZ

— UN Refugee Agency (@Refugees) March 21, 2017
Civilians who have escaped the fighting are being bussed from camp to camp as the authorities try to find them shelter. A further concern is the number of civilian casualties. There is no precise toll but one prominent Iraqi politician claims the number could be as high as 3.500 since the attack on western Mosul began in mid February.