Mosul residents try to resume 'normal life' after ISIL
Comments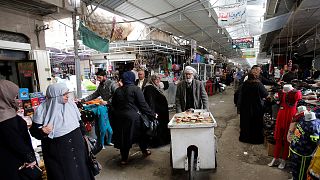 The bustling street of the Al Naby Younis market in East Mosul proves that the residents who lived for three years under strict radical Islamic rule are now trying to return to some normality.
With the visible presence of the federal police force around the market, residents say they are happy that safety has been reestablished.
However, they say a lack of basic amenities is making their lives difficult.
A five-month offensive by Iraqi forces backed by US-led coalition air strikes has left most of the city in ruins, with frequent electricity cuts and water shortages.
ISIL imposed a radical version of Islam in Mosul after establishing the country's second-biggest city as its de-facto capital in 2014.
The group banned cigarettes, televisions and radios, forced men to grow beards and women to cover up from head-to-toe.
The battle to recapture ISIL's last stronghold in Iraq has now entered its sixth month.
Iraqi government forces, backed by US advisers, artillery and air support, have cleared the east and half of western Mosul.
They are now focusing on taking control of the Old City.