Germany to quash thousands of historic convictions for homosexuality and offer compensation
Comments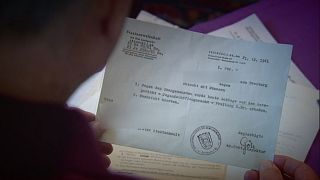 Germany is to pardon 50,000 men convicted under an arcane law criminalising homosexuality.
Paragraph 175 was introduced in the 19th century, but was especially enforced by the Nazis, and only dropped when homosexuality was decriminalised in 1969.
Heinz Schmidt was only 17 when police approached him in 1962.
"They started the full programme. Taking photos, fingerprints, you were treated like a criminal. And then there was unfriendly behaviour – in a manner of: 'such a pig'," said Schmidt (not his real name).
An estimated 100,000 men were subject to criminal proceedings between 1949 and 1969, and it led many to take their own lives.
Each surviving man is entitled to 3,000 euros and 1,500 euros for each year spent in prison and the bill still requires parliamentary approval. The Justice Minister Heiko Maas said the law was long overdue.
"We won't be able to make up for the sustained injustice, but we want to give a clear signal that the state of law is capable to correct its own mistakes, because it is never too late for justice."