France: New interior minister takes over from scandal-hit Le Roux
Comments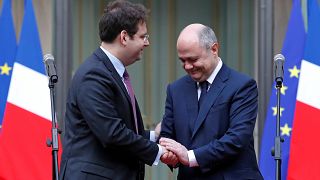 It was all change on Wednesday in one of the top jobs in French government.
But a big shadow hung over the handover of power at the Interior Ministry in Paris.
Not for Matthias Fekl, of course. Until now a junior foreign trade minister, he becomes interior minister.
But the man making way for him, Bruno Le Roux, leaves under a cloud.
Le Roux, the former head of the Socialist Party's group in the lower house of parliament, became interior minister in early December in a government reshuffle.
But he quit on Tuesday after financial prosecutors opened an inquiry into allegations he paid his daughters from public funds for summer jobs in parliament.
BREAKING: French interior minister Bruno Le Roux quits over jobs for daughters revelations: https://t.co/wGAPt0t55E

— The Local France (@TheLocalFrance) 21 mars 2017
It is claimed that between 2009 and 2016, Le Roux's daughters earned a combined total of 55,000 euros as parliamentary assistants, beginning when they were 15 and 16.
Employing relatives in the French parliament is lawful and Le Roux denies wrongdoing.
"Those work contracts … correspond to work that was effectively carried out," he said in a televised statement on Tuesday.
But the affair further damages Socialist Francois Hollande's government and the image of politicians in general in France where financial scandal has overshadowed the upcoming presidential election.
with Reuters