Video shows Paris Orly airport attack on soldier
Comments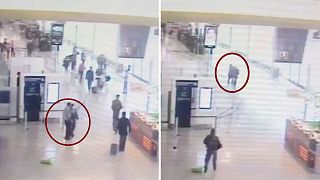 Video has emerged of last weekend's attack at a Paris airport, when an armed man briefly took a soldier hostage before being shot dead.
The Associated Press obtained the footage of the drama at Orly airport from an anonymous source.
After grabbing the servicewoman from behind, Zied ben Belgacem is seen grappling with her. At first few people seem aware of what is happening but gradually they flee in panic.
The standoff lasts for some three minutes. When the man briefly becoming separated from the soldier as he tries to seize her assault weapon, he is shot dead by others from the army patrol.
The 39-year-old Frenchman reportedly shouted Islamist slogans but had a long criminal record of drug and robbery offences.
He had been involved in an earlier shooting and carjacking on Saturday morning, and blood tests showed he had been under the influence of drink and drugs.