And the winner is? Macron tops polls after French presidential debate
Comments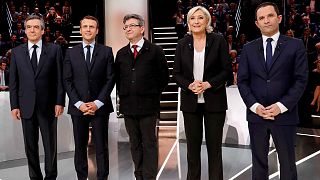 There were no knockout blows in France's first presidential TV debate.
But centrist Emmanuel Macron was judged the most convincing performer in a number of opinion polls following Monday night's nearly three-and-a-half-hour long marathon.
Macron, 39, clashed several times with his fellow frontrunner, far-right National Front candidate Marine le Pen, notably on immigration.
"I want a stop to immigration. Clearly. And I completely stand by what I am saying. I want to put an end to legal and illegal immigration," Le Pen said.
She talked about a rise of radical Islam in France.
But Macron, who has formed his own movement 'En Marche', meaning 'Onwards', was indignant.
"The trap you are falling into, Mrs Le Pen, through your provocations, is dividing society," he said.
"It is making enemies of the Republic out of the more than four million French men and women whose religion is Islam, the vast majority of whom are absolutely not leading ethnically separate lives but instead living in our Republic. Well I won't do that!"
Macron seen winning French TV debate, clashes with Le Pen: https://t.co/55SqndZz4hpic.twitter.com/7EZ5OzPNnK

— Reuters UK (@ReutersUK) 21 mars 2017
'En Marche' is attracting more and more support from leading figures from the left in France.
Just hours after the debate, a junior French minister serving under Socialist President Francois Hollande backed Macron's campaign, becoming the first government member to do so.
Biodiversity minister Barbara Pompili, from the ecology party, is expected to be the first of a number of ministers in Hollande's government to endorse the independent centrist instead of lining up behind Socialist candidate Benoit Hamon.
Bernard Poignant, a close adviser to Hollande, also told Reuters he was backing Macron.
Still struggling to make his mark in the campaign, Hamon also spoke out on immigration on Monday night's TV clash.
"The proportion of foreigners in France has been stable since the 1930s. But even so, every year it is the object of a debate, a debate aimed mainly at exploiting the issue of immigration for electoral gain," Hamon said.
The financial scandal surrounding conservative Francois Fillon occupied relatively little time in a debate in which the most flamboyant performer was left-wing firebrand Jean-Luc Melenchon.
France votes on April 23 in the first round of its presidential poll.
with Reuters