Kraft takes world record on Vikersund hill
Comments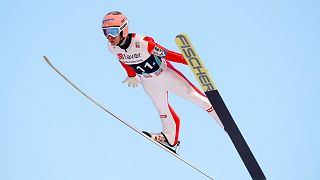 World records tumbled at the ski jumping meeting at Vikersund in Sweden.
On the day the record jump mark fell twice, or three times if you include one invaldiated leap.
First it was Norways' Robert Johansson getting into the record books, but not for long as Austria's Stefan Kraft pulverised the previous 2015 record to leap 253.5 metres, fully three metres more.
The double world champion holds a solid lead for the season's title.
Andreas Stjernen won the world cup team event leading his Norway colleagues to victory against the Poles, although the Poles retain the overall lead.