Sighs of relief in Europe at Dutch election result
Comments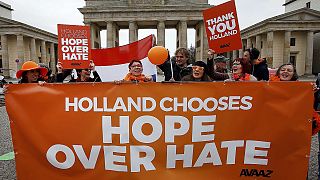 Centre-right Prime Minister Mark Rutte is not the only one celebrating his victory in the Dutch elections.
Moderate voters there and across Europe are delighted that a much-predicted populist triumph failed to materialise.
"I hope that now the situation will be calmer and that right-wing parties like Wilders will retreat, sending a strong signal to France and Germany," said bookseller Fred Klaver in the Hague, speaking ahead of key polls in those two countries this year.
The sense of relief among European leaders was also palpable.
"The Netherlands are our partners, friends, neighbours. Therefore I was very happy that a high turnout led to a very pro-European result, a clear signal," said German Chancellor Angela Merkel, who will run for re-election in September.
French presidential candidate Emmanuel Macron, expected to face far-right leader Marine Le Pen in a two-way run-off on May 7, said: "The Netherlands is showing us that a breakthrough for the extreme right is not a foregone conclusion and that progressives are gaining momentum."
Relief in EU capitals as Dutch PM sees off far-right's Wilders: https://t.co/TKNZHrZIYSpic.twitter.com/gCBOXH9CDM

— Reuters Top News (@Reuters) 16 mars 2017
But it is not all good news for opponents of Geert Wilders' anti-EU, anti-Islam stance.
One man in the southern city of Tilburg said he was a little disappointed at the strong second-place finish of Wilders' Freedom Party.
"I vote Green Left myself, so you can see why. The Freedom Party still gained so many votes. It's disappointing."
Another man in Roermond in the southeast said he was happy at Mark Rutte's victory:
"I'm very curious about the coalition that they are about to form."
The hard bargaining to put a new government together is now beginning.
One thing is sure. Rutte says Wilders won't be a part of it despite the Freedom Party leader warning the Dutch establishment that it hasn't seen the last of him.
"What a celebration it was for democracy today," Mark Rutte says after Dutch election win https://t.co/OHTOlHpDfYpic.twitter.com/h9fmZfX3SY

— Bloomberg (@business) 16 mars 2017
Our correspondent in the Netherlands James Franey said: "Prime Minister Mark Rutte will likely look towards the centre-right Christian Democrats and the pro-EU D66 party as possible coalition partners. That is because he has ruled out working with Geert Wilders.
"It would still leave him, however, short of a parliamentary majority and he is likely to need the support of a fourth party as well. Talks could go on for weeks, maybe even for months. On average, it takes about 74 days to form a coalition here. The process of forming the next Dutch government is only just beginning."
with Reuters