Letter bomb injures IMF employee after Greek militants announce campaign
Comments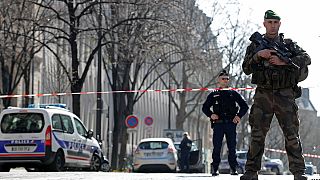 Paris is on high alert after a letter bomb sent to the IMF's office there exploded on Thursday, as it was opened by a secretary, injuring her in the face and hands.
An anti-terrorist investigation is underway following the blast at the building near the Champs Elysees.
Police say the letter was intended for the European representative of the International Monetary Fund and that it was a crude device.
"It seems that it is a pyrotechnic device or a big firecracker, something relatively home-made. It was not really a bomb," said Paris police chief Michel Cadot.
#UPDATE One hurt in letter bomb blast at IMF Paris office https://t.co/CzawmFrs6opic.twitter.com/5bgU1QevdL

— AFP news agency (@AFP) 16 mars 2017
On Wednesday, a package containing explosives was intercepted and safely defused at the German Finance Ministry in Berlin.
A militant Greek group, the Conspiracy of Fire Cells, said it sent that parcel bomb, reportedly addressed to Finance Minister Wolfgang Schaeuble.
The group had previously claimed a series of letter bombings at foreign embassies in Athens in 2010.
German media reports said it also targeted German Chancellor Angela Merkel and former Italian Prime Minister Silvio Berlusconi in 2011.
Greek group claims it mailed parcel bomb to German finance minister https://t.co/zife4657XFpic.twitter.com/EDaHLJWRE0

— Reuters Top News (@Reuters) 16 mars 2017
The group said it sent the bomb to Berlin as "part of the second act of Nemesis Plan".
It is unclear to what "Nemesis Plan" refers and whether there is a link to the attack on the IMF's headquarters in Paris.
There was no immediate claim for the Paris letter bomb but it had a Greek return address, according to Greece's Public Order Minister Nikos Toskas, who said he had been informed by French authorities.
The Paris attack was condemned by IMF boss Christine Lagarde as a "cowardly act of violence".
The IMF and EU creditors including Germany have been bailing out cash-strapped Athens and demanding tough and unpopular austerity measures in return.