French student in custody after Grasse school shooting
Comments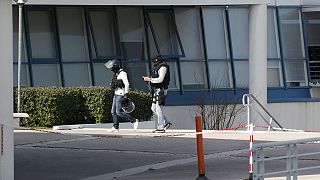 A teenage student has opened fire at a high school in southern France, injuring several people including his head teacher.
It happened at lunchtime on Thursday at the Lycée Alexis de Tocqueville in Grasse. Police say the 17-year-old was armed with a shotgun and was also found with handguns and grenades.
A specialist police unit was quickly on the scene and the suspect was arrested. Police say his motive isn't known.
Reports say social media accounts in his name contained material about mass school shootings in the US.
The Education Minister Najat Vallaud-Belkacem who visited the town, said the attack was "a crazy act by a fragile young man fascinated by firearms".
A total of eight people were slightly hurt including some injured during scenes of panic.
France has some of the strictest gun laws in the world. Automatic weapons are banned while many other guns require government authorisation, a medical exam and a permit.
President Hollande said the shooting and a letter bomb sent to the IMF in Paris justified France's continuing state of emergency.