Europe takes comfort in Dutch result
Comments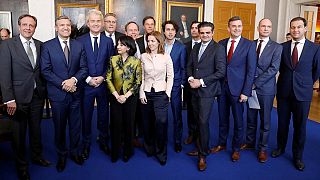 After Brexit, after Trump, European politicians have taken comfort in the Dutch election results. Leaders across the continent took turns to congratulate the Netherlands for stifling a populist breakthrough. EU parliament president Antonio Tajani felt it was down to the political response.
You saw in the Netherlands, they didn't win. Why? Because the prime minister gave answers to the citizens. We need to watch citizens, give them responses which are in their interest.
(You can see the whole interview with Antonio Tajani on Euronews Global Conversation from next week).
It's one down, two to go with elections in France and Germany later this year, which will pit the far-right against establishment candidates. The German Chancellor greeted the news saying,
"The Netherlands are our partners, friends, neighbours. Therefore I was very happy that a high turnout led to a very pro-European result, a clear signal. I believe this was a good day for democracy."
The Dutch result was just a small test for pro-European politics. A populist anti-EU win in either France or Germany will have far greater repercussions for the European Union, still rattled by the UK's decision to leave.