Dutch election: end of domino effect?
Comments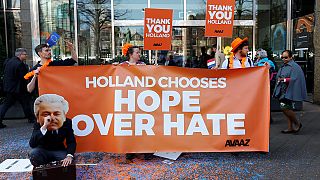 For governments across Europe facing a rise of nationalism, it appears there is a huge sense of relief. Dutch centre-right Prime Minister Mark Rutte sealing an election victory – seeing off the challenge of anti-Islam and anti-EU rival Geert Wilders.
In the wake of Brexit and Donald Trump in America, Rutte declared the Netherlands had said "stop to the wrong kind of populism."
But delve beneath the headlines, and you will see Wilders' Freedom party did make gains in this election, showing all is not lost.
So what should the rest of Europe take from this vote, with the big French and German elections looming large?
Damon Embling spoke to Euronews correspondent James Franey in the Hague and Louise Hoon, from the Flemish Free University of Brussels.
Damon Embling, Euronews: "You've been covering the election and the campaign there, what do you make of the outcome?
James Franey, Euronews: "I think many people across Europe are breathing a sigh of relief that Mr Wilders did not finish in first place. But I would add a word of caution, I mean he did make gains and the hardline policies that he was proposing, he attracted more than one million votes.
"This is a founding member of the European Union, where policies about banning the Koran and closing mosques appear to be very popular amongst key parts of the electorate.
"So I think it's far too early to really talk about the end of the domino effect that Mark Rutte was referring to over the past few days. We'll just have to wait and see. Obviously as you say, huge elections coming up in France and Germany, but whether there is any link with Mr Wilders' supposed defeat, we'll have to wait and see."
Setting the agenda
Damon Embling, Euronews: "Mr Wilders didn't get the outright victory that he wanted. But, as you say, he did make gains. How do you think that will go down in the Netherlands? Where do you think the country goes from here?"
James Franey, Euronews: "Well, yes, he made gains. And also the real victory for Mr Wilders really was setting the agenda over the past weeks and months. You saw prime minister Mark Rutte shift to the right on immigration and relations with Turkey, but also the Christian Democrats. Mr Wilders really was driving the agenda for this election campaign since it began.
"So where the Netherlands goes from here, we have to see what kind of coalition will be formed. That's not clear yet, that could take another few weeks, and maybe another two months, we're not sure.
"There's some talk here in the Hague that there could be some kind of left wing coalition with the green left party, led by Jesse Klaver, but there discussions to be had over the course of the next few weeks. We'll have to wait and see."
A 'symbolic' result
Damon Embling, Euronews: "Louise, you're an expert in European politics and euroscepticism. The result of this election in the Netherlands, what kind of message do you think the voters are sending to the rest of Europe?"
Louise Hoon, Flemish Free University of Brussels: "Well from the perspective of the rest of Europe, it's interpreted very clearly as a 'no' to populism and not another domino stone that will fall. It is interpreted very strongly as a sign towards Germany, towards France and I think that this works in itself. It's symbolically a great sign.
"But, on the other hand, I think it should be seen from the perspective of the Dutch electoral system, which is one in which there is very proportional representation, and so a run-off between two candidates would not have happened anyway.
"So I mean there is no clear winner and no clear loser in this system. It's not a system like the French system where you will end up with a run off between two candidates. So the results should also be interpreted from that perspective."
Immigration, refugees and Europe
Damon Embling, Euronews: "We mentioned the French and German elections, obviously the Dutch election was the first of these three key moments. Mark Rutte had described it as the quarter-final against nationalism.
"What do you think the outcome of this election means for the AfD party in Germany, the National Front in France. What do you think they're going to be thinking today?
Louise Hoon, Flemish Free University of Brussels: "Well I think indeed this interpretation that is now generally presented in the international media that there's been no from Dutch voters to populism, I think we should also be careful with taking that too seriously because, as I said, it's also an effect of the Dutch electoral system. And I do think that if we had ended up in a run-off between Wilders and Rutte, the outcome could have been completely different.
"I also think that this election has shown that these new issues, identity, immigration, European integration, they have been extremely central to the campaign for all parties. Also for the progressive and tolerant parties. The Greens, they have made great gains, whereas the Labour party that's a bit profiled on older issues, economic issues, has really kind of disappeared in the Netherlands.
"So this also tells something about the campaigns that will come and I think they will be very much centred around immigration, the refugee crisis and Europe. And this does mean that populist candidates such as Marine Le Pen, Alternative fur Deutschland, which really own these issues, will have a strong position in these campaigns as well."