Dutch vote halts far-right's 'Patriotic Spring'
Comments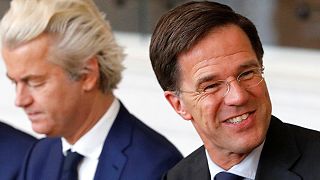 The day after the night before, campaigners from Avaaz celebrate the Dutch election results in the Hague.
Tens of thousands of people have signed a global 'thank you' letter to the Netherlands for voting against far-right politician Geert Wilders.
Prime Minister Mark Rutte's VVD party fended off the challenge from his populist rival, and hailed it as a victory putting a halt to resurgent nationalism.
When asked how he felt, Rutte said, "Proud, but it's also a big obligation."
"And we must not exaggerate", he added, noting that the party won by a small margin. However, as one of Europe's longest-serving heads of government, he has experience behind him.
Although Geert Wilders had been hoping to make a toast to the beginning of a Patriotic Spring which would sweep Europe, he saw the positive in his defeat to the centre-right.
"When we started the party twelve years ago, the Party for Freedom, we couldn't have hoped that we would become the second biggest party of the Netherlands. Leave all other parties behind except for the VVD, we got one and a half million votes , which is a great victory," Wilders told reporters.
Wilders' PVV is the second party by just one seat, winning 20 overall, while the next two parties, the Christian Democrats and Liberal Progressives sit with 19 apiece, the Green Left quadrupled their previous tallies winning 14 seats, while the VVD with 33 seats will need three other parties to form a coalition.
Whatever the final makeup, Rutte made clear he wanted to break the cycle of populist politics, saying 'Never' to accepting Wilders as a partner.