Enda Kenny urges Trump to help Irish undocumented migrants in the US
Comments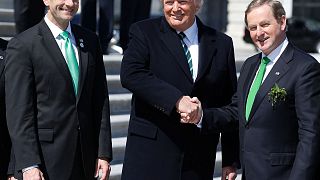 Donald Trump has described the Irish premier as his 'new friend' as the pair attended a lunch in Washington to mark St Patrick's Day. Enda Kenny immediately tested that friendship as he raised the issue of legal immigration paths for Irish citizens as well as the situation of undocumented migrants living in the US.
"I would say to Irish undocumented (living in the US) that if there are small issues, like parking fines or traffic lights or whatever, they should clear those up through their legal people, whether they be in whatever city and that's an issue that can lift the concern and the fear and the anxiety that many Irish undocumented might have."
With an estimated 50,000 undocumented Irish migrants living in the US, Kenny urged Trump to consider regularising their situation, saying there are many who want to 'play their part for America…who want to make America great.'
Kenny was the second European leader to meet the US president after Britain's PM Theresa May. On Friday, German Chancellor Angela Merkel will meet Trump.