Egyptian military to print high school exam papers to curb leakage
Comments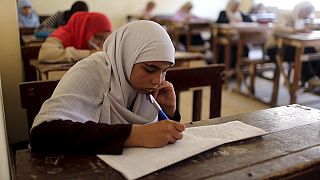 After last year's national high school examination leakage, Egypt's education ministry is proposing to use the military to strengthen efforts in preventing exam malpractices.
The head of the high school exam, Reda Hegazi told Egyptian news portal Ahram Online on Tuesday that if the proposal is approved, the military will print test papers and aid in jamming mobile phone signals in exam halls.
The exam, known as Thanaweya Amma, starts on June 4 – a year after copies of at least two test papers and their answers were leaked on Facebook before the exam creating a national scandal.
There were wide student protests after the education ministry called for a resit of the exam which is written annually by over 500,000 students determined to enroll into the university with the scores obtained.
Under a 2015 Egyptian law, leaking exam is an offence punishable by a maximum one year in prison and a fine of up to 50,000 Egyptian pounds.
Egyptian President Abdel-Fattah El-Sisi stated vowed last year that the leaks would not be repeated.