Dutch go the polls in closely-watched election
Comments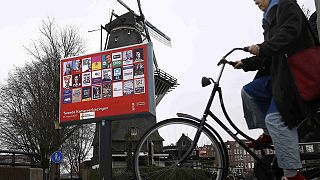 It is decision day in the Netherlands in an election dominated by immigration, Islam and the rise of populism.
Despite its splintered political landscape the Dutch vote is mainly pitching centre-right Prime Minister Mark Rutte against nationalist Geert Wilders.
It's also happening against the backdrop of a bitter rift with Turkey.
Rutte vs. Wilders pits Dutch elections in a stark light: Dutch go to the polls Wednesday The post Rutte… https://t.co/IBNRFV905N#RedDeerpic.twitter.com/cWzW4oSIog

— Red Deer Advocate (@RedDeerAdvocate) March 14, 2017
In a televised debate Wilders repeated his pledge to take the Netherlands out of the EU, close all mosques and ban the Koran. His Freedom Party has seen a surge of support.
"You know, last year with all these attacks In Germany and Europe…. If we don`t defend ourselves against this, if we are afraid to see Islam for what it is and that is not just the jihadists, it is Islam itself. If we don't keep focused Islam will ensure that we will no longer exist as the Netherlands."
Rutte who is hoping for a third term, says the election is an opportunity for voters to beat the wrong sort of populism. He's also ruled out leaving the European Union:
"No Nexit. I want to keep this country safe and stable and prosperous. And that means that we have to be a member of international organisations, like NATO, like the European Union, because it is providing a lot of jobs through trade, 1.5 million jobs directly linked to the European internal market."
Despite Rutte and Wilders leading opinion polls, the 150 seat parliament is set to be divided among numerous parties, with a centre-right coalition seen as the most likely outcome.
Netherlands: 13 million voters are heading to the polls today. 28 parties, up to 15 might join parliament. #TK2017#TK17#DutchElections

— Europe Elects (@EuropeElects) March 15, 2017