Dutch election: PM Mark Rutte insists he will not quit, even if rival Geert Wilders wins vote
Comments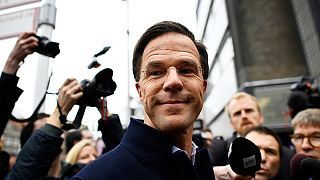 Dutch Prime Minister Mark Rutte has told euronews he will not quit as leader of his centre-right liberal party should his anti-Islam rival Geert Wilders wins Wednesday's election.
Just hours before the Netherlands goes to the ballot box, polls gave Rutte a narrow lead in a vote dominated by a dispute with Turkey.
Speaking to Euronews' James Franey while on the campaign trail in the Hague, Rutte placed the blame for the diplomatic spat squarely at Ankara's door.
Euronews: Mr Rutte, with you rising in the polls after this row, any plans to invite the Turkish government back after the next election?
Dutch PM Mark Rutte: ''Well, this has nothing to do with elections. We have not sought… We did not seek this fight, it was Turkey deciding to create this chaos last Saturday.''
Euronews: ''You said yesterday that there's a real risk that Mr Wilders could end up the leader of the biggest party in the Netherlands. If that happens, will you resign as Liberal party leader?''
Dutch PM Mark Rutte: ''No!''
Euronews: ''You don't feel responsible for that?''
Dutch PM Mark Rutte: ''No!''
Euronews: ''Still think you'll be Prime Minister at the end of the year, sir?''
Dutch PM Mark Rutte: ''That's what I'm fighting for, not for myself, but I do believe that the present strategy, the present course of the government is the best way of moving forward – and no experiments!''
Rutte has seen his poll numbers rise in recent days following his hard stance against Ankara. The Dutch premier has ruled out forming a coalition government with Mr Wilder's party, which has vowed to leave the EU and stop, what it calls, the Islamisation of the country.