Melanie does the weather: French woman with Down's Syndrome fulfills dream to become weather girl
Comments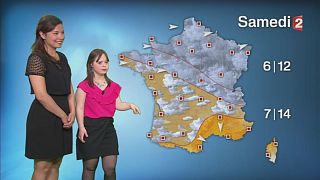 A young French woman with Down's Syndrome has fulfilled her lifelong ambition to become a TV weather presenter.
Melanie Ségard hosted part of the forecast on national broadcaster France 2 on Tuesday evening.
The 21-year-old, who cannot read or write, got her big break after setting up a facebook campaign called Melanie peut le faire, or Melanie can do it. That attracted more than 200,000 people.
During four days of training she was joined by her 27-year-old brother, Cyril Ségard.
"I'm in awe of her courage, of all what's happening today, of her having the strength to face the media scrutiny, face the people, to say: I'm able to do it, and, see, I've done it," he said.
Melanie's story has been covered extensively in France by both the national press and on social media. In addition to France 2, she also received an offer from French news channel BFMTV, to fulfill her dream role.
The charity Unapei, which helped set up the 21-year-old's campaign, said Melanie's story was important to raise awareness for those with learning disabilities in France.