Japan remembers the victims of 2011 quake and tsunami
Comments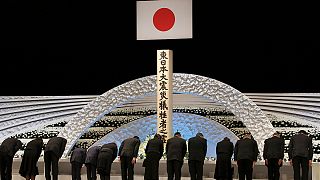 Moments of silence have been held in Japan to remember the victims of the devastating earthquake and tsunami in 2011.
The country is marking the sixth anniversary of the disaster, which killed more than 18,000 people along the northern Pacific Coast of Tohuku.
Prime minister Shinzo Abe told an official ceremony: "Keeping in mind the valuable lessons we learned by losing so many victims, we will relentlessly revise our preparation for disaster with all our effort and wisdom."
The explosion and emergency at the Fukushima nuclear plant forced tens of thousands to flee and even now many are still too afraid to return to their homes.
In February this year more than 120,000 people were still listed as displaced.
The struggle continues to rebuild the communities affected by the disaster and reassure residents about efforts to reduce radiation levels.
Many of the reconstruction and clean-up projects are still ongoing.