Trump: we must act now to replace 'Obamacare disaster'
Comments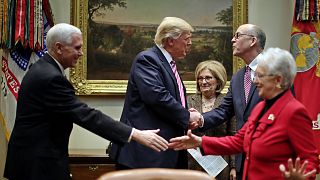 US President Donald Trump has called for his predecessor's healthcare legislation to be replaced quickly.
Meeting Republicans from House of Representatives committees at the White House after a week of disagreements and negotiations, he said "we must act now to save Americans from the imploding Obamacare disaster".
"This is the time we're going to get it done. We're working together, we have some great results. And we have tremendous spirit and I think it's something is just going to happen very shortly," the president said.
The Republicans plan to replace Obama's law with the American Health Care Act.
Three-Pronged Approach to #RepealAndReplace#Obamacare: https://t.co/OGFLlI4BpC

— The White House (@WhiteHouse) March 10, 2017
Its proponents say it will lower costs by reducing government regulations and provide more choice for those buying insurance.
Critics say Trump is breaking promises to cover everyone, and that the new law will benefit the rich and leave millions without health insurance.
Trump promised to cover everyone, lower deductibles, and protect Medicaid. Trumpcare does the opposite. https://t.co/5ebzjTINov

— Vox (@voxdotcom) March 10, 2017
More info on the GOP health care bill. Please read. Q&A: The facts on the Republican health care bill https://t.co/PJYkE06VmT via usatoday</a></p>— Aron Eisenberg (AronEisenberg) March 9, 2017