"Trumpcare" embarks on tricky journey through US Congress
Comments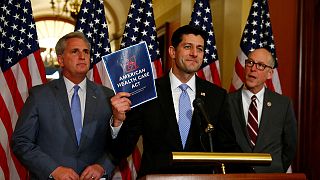 In the US, the republican plan to replace the signature healthcare legislation brought in by previous president Barack Obama has begun its journey through Congress.
ObamaCare is a complete and total disaster - is imploding fast!

US President
House committees have begun debating and considering amendments on the bill, dubbed "Trumpcare".
The US president has endorsed the legislation to replace signature healthcare legislation brought in by his predecessor.
Our wonderful new Healthcare Bill is now out for review and negotiation. ObamaCare is a complete and total disaster – is imploding fast!

— Donald J. Trump (@realDonaldTrump) 7 mars 2017
Donald Trump said the plan was open to negotiation but it had already earned support from everybody got elected to a certain extent, I would say a pretty good little chunk, based on the fact repeal and replace Obamacare. And many of you people are in the same boat. Very important. So let's get it done."
Vice President Mike Pence described it as a "framework," saying it was far from its final form.
"And, let me be clear as I said today, as the legislative process goes forward, the president and I believe that the American Health Care Act is the framework for reform," Pence said on Capitol Hill.
A "work in progress"
Health and Human Services Secretary Tom Price called it "a work in progress".
However, the legislation to replace the Obamacare health law still faces a rebellion by lawmakers, complicating its chances for passage through Congress.
We are taking a step-by-step approach to repealing and replacing #Obamacare. Learn about it here ↓ https://t.co/O6A0pctLXepic.twitter.com/tu1uu1m4uG

— Paul Ryan (@SpeakerRyan) 8 mars 2017
"What I would say is there is a great deal of evidence that this is the beginning of the negotiation," said Republican Senator Paul Ryan.
The context
On Monday, Republican house leaders unveiled legislation to do away with Obamacare.
The plan eliminates the requirement that most Americans obtain medical insurance and instead creating a system of tax credits to coax people to purchase private insurance on the open market.
Under the bill, Obamacare's income-based and location-based tax credits would be replaced by fixed tax credits. Industry sources say this could put the plan out of reach for consumers in certain states and result in lower enrollment.
What the Republicans say
Speaker Paul Ryan said he could guarantee he had enough votes to win passage of the measure in the House.
He added that Republicans should be excited about the plan to repeal and replace what was the Democrat former President Barack Obama's signature domestic policy.
"We will have 218 votes. This is the beginning of legislative process, we have got a few weeks we will have to wait. We will have to wait when this thing comes along, I can guarantee you that," Ryan said.
We have made a promise to #RepealAndReplace Obamacare, and we are going to keep it. #ReadTheBillpic.twitter.com/sVqo7oQvx6

— Paul Ryan (@SpeakerRyan) 7 mars 2017
Opposition
However, Republicans have also slammed the proposal.
Utah Republican Senator Mike Lee called it "exactly the type of back-room dealing and rushed process that we criticised Democrats for."
Lawmakers face pressure from constituents not to throw America's healthcare system into chaos.
Some Republicans have complained the bill does not go far enough in removing government from the healthcare industry. Republican Senator Rand Paul of Kentucky described it as "Obamacare Lite".
#Trumpcare cuts PPFA</a> funds, hurting millions of women who turn there for mammograms, maternity care, cancer screenings & more. <a href="https://t.co/8ZmgEPZikv">pic.twitter.com/8ZmgEPZikv</a></p>&mdash; Chuck Schumer (SenSchumer) 7 mars 2017
Democrats denounced the proposal, saying it would take away health insurance from millions of Americans and benefit the rich. "Trumpcare means higher costs for less health care. Plain and simple," Democratic Senate minority leader Chuck Schumer told reporters.
The republican "Club for Growth" derided the new bill as "Ryancare" after the Speaker of the House, Paul Ryan and called it a "warmed-over subsitute for government healthcare."
"We think you have to get rid of Obamacare completely," said Ohio Republican Representative Jim Jordan, who announced plans to introduce his own bill to repeal Obamacare on Wednesday.
"We think you have to get rid of Obamacare completely," said conservative Republican Representative Jim Jordan of Ohio, who announced plans to introduce his own bill to repeal Obamacare on Wednesday, the same day that
Conservative opponents said the legislation maintains some Obamacare regulations and mandates that have caused rising insurance prices, creates a new entitlement in the form of tax credits and fails to embrace free-market ideals.