Mexico slams US plans to separate undocumented migrant children from their parents
Comments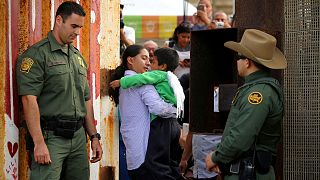 The gulf between Mexico and the USA grows wider. The Mexican government has slammed the Trump administration's plans to separate undocumented children from their parents if they try to cross the US border.
The Foreign Minister Luis Videgaray said the move would cause 'irreversible damage'. He said they had contacted the Department of Homeland Security over their concerns.
"We believe that separating families upon their arrival (to the U.S.)— independent of the reasons that motivated a policy of this nature— represents an attack on the integrity of the fundamental unit of society, which is the family," he said.
The White House has defended the measure as a way of dissuading migrants from making the dangerous journey from Central America to the US.
They hailed a 40% drop in numbers crossing the border from January to February as a result of Donald Trump's tough policies.