Our man in Moscow - US appoints key ambassador to Russia
Comments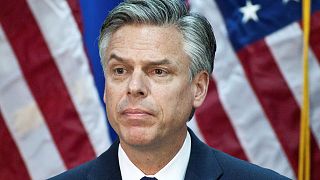 The former governor of Utah has accepted Donald Trump's offer to be US ambassador to Russia.
Republican Jon Hunstman served as ambassador to China under Democratic President Barack Obama before launching an unsuccessful bid for the 2012 Republican presidential nomination.
President Trump Picks John Huntsman to Be Russia Ambassador https://t.co/hpcL6D4V3fpic.twitter.com/zIVAi353SA

— Fayber Miller (@suppfortrump) 9 mars 2017
The position, which requires Senate confirmation, would put Huntsman in Moscow at a time when US-Russian ties have sunk to a post-Cold War low.
If confirmed, Huntsman will replace John F.Teftt, the US Ambassador to Russia since 2014.
What Trump has said
The US president wants to improve relations with Russian President Vladimir Putin. Analysts say they deteriorated under Obama over issues including Russia's annexation of Crimea and the two countries' backing of opposing sides in the Syrian conflict.
Donald Trump 'offers Jon Huntsman job of ambassador to Russia' despite past clashes with former presidential… https://t.co/Myq9ABG5S3pic.twitter.com/iB9EB3RXv3

— Telegraph News (@TelegraphNews) 9 mars 2017
Jon Huntsman called to see me. I said no, he gave away our country to China! JonHuntsman</a></p>&mdash; Donald J. Trump (realDonaldTrump) 9 février 2012
Trump seems to have had a change of heart since 2012.
Tensions peak
In December, Obama expelled 35 Russian suspected spies. US intelligence agencies concluded that Russia hacked and leaked Democratic emails during the 2016 election campaign.
The claim was that this was part of an effort to tilt the vote in Trump's favour. The Kremlin has denied the allegations.