Egypt: archaeologists find 'probable' Ramses II statue in Cairo
Comments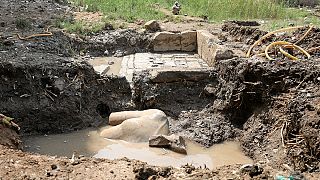 Archaeologists in Egypt have made what's described as one of the most important ever discoveries.
A joint Egyptian-German team in Cairo have found parts of two statues, one of which it's thought depicts Ramses the Great, the Pharoah who was the most powerful and celebrated ruler of ancient Egypt more than 3,000 years ago.
The head of the statue, which was submerged in ground water at the site of the king's temple, was excavated. Experts will attempt to extract the remaining pieces of both statues before restoring them.
Ramesses II colossus discovered in old Heliopolis https://t.co/nbzh6e5uAo#archaeology#Egyptpic.twitter.com/gC0WTtlTsX

— Ticia Verveer (@ticiaverveer) March 9, 2017
Amazing scenes in #Cairo today as statue of Ramsses II discovered in Heliopolis! #Egypt#Archaeology#Egyptologypic.twitter.com/I7xBUpbS5q

— Nigel J.Hetherington (@Pastpreservers) March 9, 2017