US to change its approach to North Korea after missile tests
Comments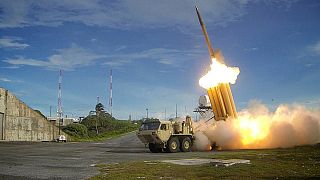 Nikki Haley has told the United Nations Security Council the US is re-thinking its diplomatic approach to North Korea following repeated missile tests by the secretive state.
Washington's ambassador to the UN was asked about China's proposed deal, which suggests a freeze in testing in exchange for a suspension of US-South Korean military drills.
China asked for the meeting. Beijing is concerned about the Terminal High Altitude Area Defence (THAAD) anti-ballistic missile system undermining its own defence equipment.
The US says its recent installation of THAAD in South Korea is there to help the country protect itself from a possible North Korean military attack.
"Tell me why we wouldn't do the THAAD in light of 24 ballistic missiles, in light of two nuclear tests, knowing that we're going to protect our allies. We're not going to leave South Korea standing there with the threat of North Korea facing them and not help. The reason for THAAD is because of the actions of North Korea," Haley said.
Haley added that "all options are on the table" concerning North Korea, but said the country must engage in positive action before the US would take it seriously.