Guatemala children's home blaze leaves 19 dead
Comments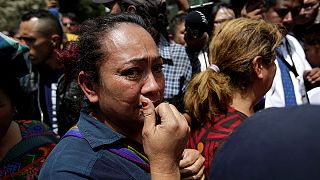 A fire at a scandal-hit children's home in Guatemala has left 19 people dead, at least 17 of them teenage girls.
Grief-stricken relatives gathered outside the Virgen de Asuncion home in San Jose Pinula, some 25 kilometres from the capital, Guatemala City.
Youngsters at the complex, for children up to 18 years old, had complained of overcrowding and abuse.
"I don't know what happened, but mattresses were lit," said Corina Cruz de Paz, the distraught mother of one young resident.
"There are many children with burns. Nineteen people are dead. They haven't given us an explanation and they won't let us go in."
UPDATE: Many dead and injured after fire at group home near Guatemala City, firefighters say. https://t.co/m4rcZV7GlMpic.twitter.com/WifpHjBCGu

— NBC Nightly News (@NBCNightlyNews) 8 mars 2017
The government-run home took in abandoned girls and boys as well as victims of abuse and trafficking.
Police said young people there started the fire on Wednesday, setting sleeping mats ablaze, following an overnight riot in which dozens escaped and were later recaptured.
Local hospitals said around 40 people were being treated for burns.
Plagued by Latin America's highest rates of child malnutrition and street gangs that often prey on minors, Guatemala has long been a traumatic place to grow up. Conditions in public institutions are often dismal, with widespread overcrowding.
The Virgen de Asuncion home had previously suffered from overcrowding, with Guatemalan media reporting that more than 500 people were crammed into the centre designed to house 400.
with Reuters