Cretan farmers clash with Athens police at reform protest
Comments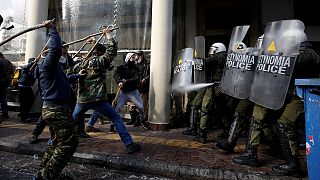 Farmers from the Greek island of Crete have clashed with authorities in Athens over tax and pension reforms.
"In one word? Catastrophe. It's a catastrophe, we cannot produce anything. The production costs are ridiculously high. We cannot produce products that will be competitive on the market and that the consumer can buy," said Manolis Orfanoudakis, the President of a Cretan Farmers Association.
They say the measures, which came into effect as part of Greece's multi-billion-euro bailout deal, will destroy the farming sector.
Farmer Yiannis Klironomou said:
"They must change the tax and pension reforms, in order to give incentives to the sector so we can work. (But) they don't want us to work, they want to kill us off, they want to take us out of Europe."
The group was blocked from marching towards the Agriculture Ministry.
Greek farmers from the region of #Crete clash with police during a protest outside the Agriculture ministry in #Athens, #Greece. pic.twitter.com/io2piy27t2

— th1an1 (@th1an1) March 8, 2017
Eyewitnesses say tempers flared after a rumour spread through the crowd that officials had refused to see a delegation from the farmers.
Police fired tear gas to prevent a stampede in the direction of the Agriculture Ministry. Some protesters threw stones or lashed out with shepherds crooks.
Clashes outside Agriculture Ministry in Athens. Farmers protest. Tear gas and violence. #Greecepic.twitter.com/qklJEc7yoO

— Savvas Karmaniolas (@savvaskarma) March 8, 2017
Clashes at farmers' priest outside Agriculture Ministry in Athens.#Greecepic.twitter.com/bajtMz9vcI

— Savvas Karmaniolas (@savvaskarma) March 8, 2017