French election: Juppé rules himself out as embattled Fillon fights on
Comments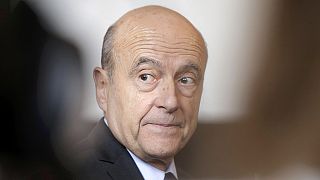 Ex-prime minister Alain Juppé said on Monday "once and for all" that he won't stand in France's presidential race.
He spoke to quash speculation that he could step in to replace his scandal-hit party colleague and designated conservative candidate Francois Fillon, who polls suggest would crash out of the election in the first round next month.
Defeated by Fillon in party primaries, Juppé says he won't now be a 'Plan B', despite surveys showing his chances of success are now greater.
Former #lesrepublicains candidate Alain #Juppé holds press conference: "I will not stand in the presidential election." #Presidentielle2017pic.twitter.com/MmGG1Cc3if

— FRANCE 24 English (@France24_en) 6 mars 2017
And Juppé had harsh words for his fellow former premier, calling Fillon obstinate for refusing to step aside, despite facing an inquiry into the alleged misuse of public funds.
Speaking in Bordeaux where he is Mayor,Juppé said Fillon had wasted a chance of victory.
"Francois Fillon… had a boulevard (to the presidency) in front of him," Juppé said at a news conference.
"The instigation of judicial investigations against him and his defence based on a supposed plot and political assassination has brought him to a dead end."
Juppé offered no alternative plan, less than 50 days from the April 23 vote.
Despite his party's confidence in him fading, Fillon gathered thousands of supporters in Paris on Sunday. He stood alongside his British-born wife Penelope, who insists she did work for him.
French conservative presidential candidate Francois Fillon rejects demands from within his party to quit https://t.co/zxuiTa7vJmpic.twitter.com/GP3cv8YFdx

— AFP news agency (@AFP) 5 mars 2017
French media says Fillon is now being urged to find his own replacement, in an initiative led by ex-President Nicolas Sarkozy.
Before the scandal over allegations he paid his wife taxpayers' money for little work as his parliamentary assistant erupted, Fillon had been favourite to return the right to power in France, against a backdrop of high unemployment and sluggish economic growth.
But now his predicted poor showing in the first round would leave centrist Emmanuel Macron to fight out a run-off vote on May 7 with far-right leader Marine Le Pen.