France: support ebbs away from Fillon amid calls for Juppé return
Comments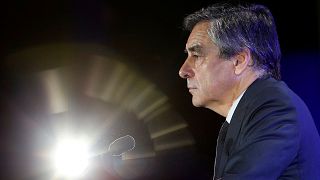 Dozens of French conservative politicians are reported to have abandoned their support for François Fillon over an embezzlement scandal.
Let me tell you, I have no intention of giving in

French presidential candidate
There was more bad news for the beleaguered presidential candidate as he campaigned in southern France on Thursday: his Paris home was reportedly raided by police.
But the former prime minister told cheering supporters in Nîmes: "you have a fighter before you".
It was clear he was still battling on – and still crying foul against judges and the media.
"Seven days a week, 24 hours a day, the machine to grind me down with scoops and rumours has set itself going. But let me tell you, I have no intention of giving in."
Leading Fillon campaigner Bruno Le Maire became the first to quit his team following news on Wednesday that the candidate faces a formal investigation for allegedly misusing public funds. Several more have since followed suit.
Prominent conservative parliamentarian George Fenech has publicly called on members of Fillon's party to back the rival he defeated in last autumn's primary, Alain Juppé.
Retrouvez mon communiqué de presse lançant un appel solennel à la candidature d'alainjuppe</a> <a href="https://twitter.com/hashtag/Fillon?src=hash">#Fillon</a> cc.<a href="https://twitter.com/afpfr">afpfrpic.twitter.com/2r6ZluWadJ

— Georges

FENECH

(@GeorgesFENECH) March 2, 2017
Until now Juppé, a former prime minister, has said he is not interested in the presidency after losing the primary.
On the substance of the allegations, Fillon insists the job as parliamentary assistant for which his wife was paid hundreds of thousands of euros over several years was real not fake.
But little evidence has come to light to back his claims.
In old interview unearthed recently, Penelope Fillon appeared to play down her role.