Francois Hollande and Angela Merkel call for 'multi-speed Europe'
Comments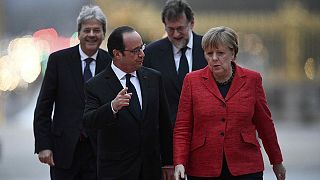 Europeans leaders have called for a "multi-speed Europe" at a mini-summit at the Palace of Versailles.
Francois Hollande, the French president, joined Angela Merkel, Germany's Chancellor, to say that some stronger countries should be able to move quicker than others.
Unidad, coordinación y competitividad para lograr más crecimiento, empleo y bienestar en la #UE; nuestras prioridades pic.twitter.com/WkuW5m8o8r

— Mariano Rajoy Brey (@marianorajoy) March 6, 2017
The leaders said the bloc could lose its momentum without the changes they propose, and Hollande has warned the future of the union itself is at stake.
Mr Hollande said: "Unity is not uniformity and this is the reason why I call for new forms of cooperation (…) that we could go quicker and stronger with some countries without excluding others and without having others who can oppose."
Mrs Merkel said: "We must have the courage that some countries precede if not all want to participate: a Europe of different speeds is necessary, otherwise we will probably get stuck."
The two leaders were joined by Italian Prime Minister Paolo Gentiloni and Spanish Prime Minister Mariano Rajoy for talks at the opulent palace near Paris.
Their meeting comes ahead of an EU Council meeting in Brussels this week and the 60th anniversary of the Treaty of Rome on March 25.