Clashes in California as pro and anti-Trump protesters rally across US
Comments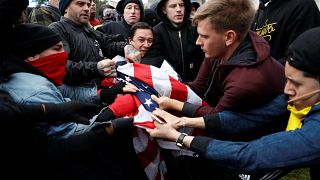 Supporters and opponents of Donald Trump came to blows in California – on a day when rallies elsewhere in support of the new president were mostly peaceful.
Protesters from both sides at Berkeley struck one another. An elderly Trump supporter was struck in the head and kicked on the ground, while Trump supporters reportedly fired pepper spray.
Police estimated the total number of demonstrators at 200 to 300 and said they made several arrests in trying to break up the fights.
Very hard to get an accurate count, but there are maybe 100 protesters pro and 100, much noisier, anti. #berkeleyprotestspic.twitter.com/ippw5gPvmR

— Berkeleyside (@berkeleyside) March 4, 2017
Organisers of the "Spirit of America" rallies which took place in around half the country's states said they wanted to show their support for Trump after many protests against him.
In New York, the rally of around 200 people outside Trump Tower was countered across the street by a demonstration against the president.
Other cities where pro-Trump rallies took place on Saturday included Washington DC; St Paul, Minnesota; Nashville, Tennessee; Lansing, Michigan; San Diego, California; and Palm Beach, Florida where the president is staying at his Mar-a-Lago resort.
In many towns and cities the rallies in support of the president drew only a few hundred people and were sometimes almost outnumbered by opponents who came to shout them down.