Luis Enrique says goodbye to Barcelona
Comments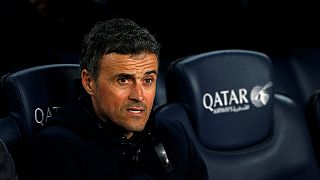 The signs were there at the Camp Nou last weekend after an uninsipring draw which had half the stadium calling for him to go.
That followed a disasterous Champion's league clash Barca lost to PSG, after which there was reportedly a blazing dressing room row.
Now Barcelona manager Luis Enrique says enough's enough, and he's leaving the club he has spent most of his life with at the end of the season. In three years in charge he has won everything, as much as his illustrious and adored predecessor Pepe Guardiola, but his players have reportedly lost confidence in him.
"Like a Barcelona fan, like supporters, like he's… I am sorry, the club of my heart, so I am so sad because we are going to miss the perfect trainer for Barcelona for his personality, character, for his three years, two years and now three, he play, played, unbelievable football with unbelievable players," said Guardiola when asked for his reaction.
Star player Lionel Messi may have been one of the major reasons why Enrique is fed up of the pressure, and the Argentine may get the final say in the choice of new manager, which may be between Sevilla's Jorge Sampaoli and Athletic Bilbao's Ernesto Valverde. Any manager should be warned, this is Messi's team as much as anyone's.
Sampaoli has transformed Seville into one of Europe's most exciting teams, and as an Argentine has a bond with Messi, although the fans may prefer Valverde, a former Camp Nou favourite.