360° video: Re-enacting Rome in Spain
Comments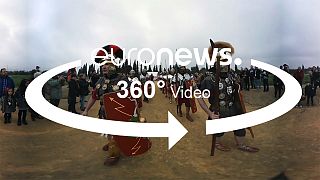 For two days each year, more than 100 re-enactors populate the ancient roman city of Italica, the oldest Roman settlement in Spain and hometown of Emperors Trajan and Hadrian.
On February 24 and 25, they celebrate ITALICAVIVA Re-enactment Days, the biggest event of its kind in Southern Spain.
It is organized by the Archaeological Ensemble of Italica.
This time, more than 7,500 people turned up.
Javier Santana is President of the Hispania Romana Association and organiser of the event.
"We want to bring the public closer to Roman Culture. For that, we perform different workshops about civil, military and religious topics"
This year people from six associations re-enacted different aspects of civil customs, including gladiator fights at the Roman theatre.
At the entrance to the amphitheatre, enthusiasts performed the ritual of the cult of Goddess Vesta.
Military manoeuvres are an essential part of re-enactment activities. Each group has studied and re-created every detail of military dress and weapons for the specific period of the Roman Army.
2017 marks the 1,900th anniversary of the death of Trajan and of the ascension to power of Hadrian.
During his reign, the new neighbourhood of the city of Italica was built up.
Nineteen centuries later, several civil collectives have suggested this Roman relic be included on UNESCO's World Heritage list.