Rio carnival crash: at least a dozen people injured after float hits barrier
Comments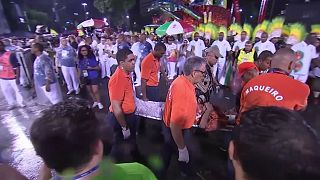 At least a dozen people have been injured, one seriously, following a float crash at Rio de Janeiro's world famous carnival parade.
It happened after one samba school car lost control jamming people against the railings inside the Sambodromo.
Sunday's accident prompted chaos inside the purpose-built arena, temporarily bringing the whole event to a halt.
Police have launched an investigation but the wet slippery conditions inside the stadium at the time due to drizzle is being considered as one possible explanation. Rain can make big floats much harder to guide.
The Rio carnival's origins stem from the tradition of indulgence ahead of the Christian period of lent. That is set to begin on Wednesday.