Recent video of tigers chasing a drone has a dark backstory
Comments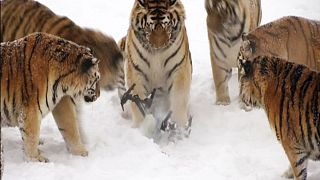 A recent video that euronews reported on last Thursday in which Siberian tigers can be seen taking down a drone may not be as harmless as it first appeared.
The video, which did the rounds on social media last week, depicted a pack of chubby tigers chasing around the aerial device with one eventually knocking it out of the sky.
Chinese State Television reported that the exercise was carried out to give the cats a workout and that the animals in the video were in good heath, according to their keepers.
Although the video first appeared to be an innocuous demonstration of a situation in which nature prevailed over machines, later reports have claimed that the park in which the tigers in the video are being kept has been implicated in the tiger bone and wine trade and that the animals are being kept in less-than-satisfactory conditions.
According to Big Cat Rescue, the footage appears to have been filmed at Harbin Siberian Tiger Park in Heilongjiang province, not a 'refuge' but a 'tiger farm'.
Susan Bass, a spokesperson for the accredited animal sanctuary commented: "This is sad. These tigers are doomed. You're watching tigers that are going to be slaughtered for their parts."
While an investigative report in 2014 by McClatchyDC asserts that animals were living in 'deplorable conditions'.
It goes on to suggest that "merchants openly sold bone wine, despite a 1993 ban by China on bone products sourced from both domesticated and wild tigers."