German hostage beheaded by ISIL affiliated group in the Philippines
Comments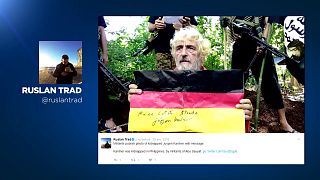 The ISIL affiliated group Abu Sayyaf has released footage which appears to show a German hostage being beheaded in the Philippines.
Officials in the country say they received reports that Jurgen Kanter had been murdered on Sunday after a deadline to pay his ransom had passed.
The 70-year-old was snatched from his yacht off the southern Philippines in November. His wife was later found dead on the abandoned vessel.
Abu Sayyaf, which is considered a terrorist organisation by several Western countries, is believed to be holding a number of hostages and has freed several for payments.
It was not the first time the German sailor and his wife were kidnapped. In 2008, the pair were abducted by Somali pirates of the Gulf of Aden and held for nearly two months.