Italian veteran Fill wins first career super-G race
Comments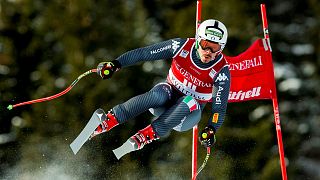 Experience was the flavour of the day in Sunday's super-G results at the Norwegian resort of Kvitfjell.
The average age of the men who reached the podium was 35.
Better late than never, Peter Fill celebrated his first ever victory in the discipline.
Not only was he celebrating his first career super-G win but the Italian veteran also enjoyed his first victory this season.
The 34-year-old stopped the clock at one minute and 32.83 seconds to cap of a fine display in Kvitfjell after his runners-up finish in Saturday's downhill – a discipline in which he is defending World Cup champion.
His fine performance down the Olympiabakken course on Sunday reflects his consistent season which includes five podium finishes.
Fill took the win by one tenth of a second from Austrian Hannes Reichelt, the 2015 World super-G champion.
It was Reichelt's 40th career podium.
Canadian Erik Guay was 0.23 seconds off the lead in third.
Reigning Olympic super-G champion Kjetil Jansrud finished down in seventh position, but that was god enough to hand the Norwegian the discipline's season-long title, much to the delight of his home supporters.
With one super-G left this season he holds an unassailable 126-point lead over compatriot Aleksander Aamodt Kilde.
It's Jansrud's second career super-G title and sixth consecutive for Norwegian skiers.
Analyze this
Even with Aksel Lund Svindal out injured, Kjetil Jansrud, Henrik Kristoffersen and Aleksander Aamodt Kilde are flying the Norwegian flag high this season and are amongst the top six in the general standings.
We asked French skiers Guillermo Fayed and Adrien Théaux what makes the "Attacking Vikings" so successful, especially in the speed events.
Two-time Olympian Fayed said: "I don't think there is any secret to it all. They have some great equipment and on top of that that all have great technical basics. Aksel Lund Svindal is a skiing giant and has loads of podium finishes. Concerning Kjetil Jansrud we did laugh a bit the last time but he doesn't embarrass himself in the slalom. He boasts 60 World Cup slalom starts. They are versatile skiers when young and afterwards they put all their talents towards the speed events."
Three-time winner on the World Cup circuit Théaux added: "I think they still possess some viking blood in them. With that said they are not completely unbeatable. It's true they do have a very strong team. There is one young guy called Kilde, who last year won the super-G title. It's a really small team but well financed. They concentrate all their efforts on this little team. That's their strategy and it works. They are also very good technically. You have Kristoffersen who is very good at slalom and giant slalom. But they are not always consistent, they do slip up so then that's up to us to make the most of it to get ahead of them."
Skiing past
On the women's circuit American ace Mikaela Shiffrin won her first Alpine combined race in Crans-Montana while Ilka Stuhec claimed the discipline title courtesy of a third place finish there.
This Swiss resort has, in the past, been happy hunting ground for their home skiers.
The Swiss team won eight titles out of ten medals at the 1987 world championships.
As home snow domination goes these championships were up there with the best.
The women skiers enjoyed a clean sweep of the disciplines while their male counterparts only failed to win the slalom and combined.
The men's downhill, though, was the gold the host nation most desired, and it was Peter Müller who delivered.
He led an all-Swiss podium ahead of pre-race favourite and that year's downhill world cup winner Pirmin Zurbriggen and Karl Alpiger in third
Muller, a two-time World Cup downhill champion in 79 and 80, produced a stunning display to celebrate gold in front of his home fans.
He retired in 1992 having also amassed 24 World Cup victories, 19 downhill, 2 Super-G and 3 combined.