White House under fire for shutting door on journalists
Comments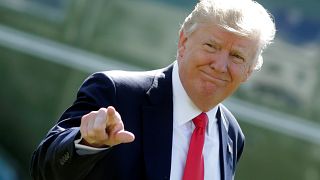 The White House is being slammed after several major US news organisations were barred from an off-camera briefing.
Reporters for CNN, The New York Times, Politico and others were not allowed into the so-called "gaggle," in the office of press secretary Sean Spicer.
Some of the outlets have been openly criticised by the administration.
Reporters at the Associated Press and Time magazine walked out of the briefing when they found out others had been blocked.
CNN described it as an "unacceptable development" – and vowed to continue reporting.
White House press secretary Sean Spicer excludes some media outlets from briefing https://t.co/cFeg2iPqJ5pic.twitter.com/3RHa4kGLMW

— Wall Street Journal (@WSJ) 24 February 2017
President Trump has said some news organisations provide "fake news," describing them as an "enemy" of the American people.
Sean Spicer did not say why some of the reporters were excluded from the "gaggle."
Explaining the replacement of a usual televised news briefing, he said: "Our job is to make sure that we're responsive to folks in media. We want to make sure we answer your questions, but we don't need to do everything on camera every day," he said.