Turkey's PM seeks backing for 'stability' in April vote
Comments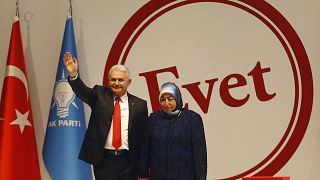 Turkey's prime minister has called on voters to back a change to the constitution ahead of a referendum in April that would greatly strengthen President's Erdogan's powers.
Binali Yildirim portrayed the reform as a vote for stability before a gathering of thousands of ruling AK Party members in Ankara.
Opponents fear a surge in authoritarianism. Tens of thousands of people have been detained and over 100,000 public sector workers suspended or dismissed since last July's attempted coup.