Three million at risk of famine in Lake Chad region
Comments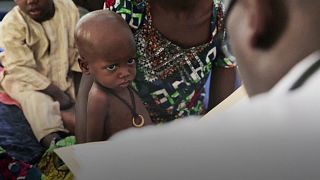 Aid agencies must get food to an estimated three million people to avert a famine in Africa's Lake Chad region.
Launching a funding appeal, the UN says drought, chronic poverty and Boko Haram Islamic militants have led to the emergency.
International donors at a conference in Oslo pledged
$672 million for the next three years in new money,
$457 million of which was for 2017, according to Norway's foreign minister.
Boerge Brende has confirmed his country is giving 1.6 billion kroner over a three-year period to prevent famine taking hold in the countries around the basin in Africa.
Germany has promised to give 120 million euros.
International donor conference
Brende and his German counterpart, Sigmar Gabriel, made the commitments in Oslo as they opened the one-day conference.
The aim is to help secure funds to help the estimated 11 million people in the region who have an acute need for relief, of which three million are at risk from famine.
What they are saying
Brende said there was "a serious humanitarian situation" in the region encompassing Nigeria, Cameroon, Chad and Niger.
There is an "urgent need" to stop a humanitarian crisis unfolding in the area, which is home to 26 million people.
What is the UN doing?
The United Nations has launched a $1 billion appeal for Nigeria and the Lake Chad region, in the grip of what is described as the "worst humanitarian crisis" in Africa.
The most urgent need is to reach 2.8 million people with rice, sorghum or cash to buy supplies by July, according to the World Food Programme (WFP).
"We are in the lean season and people's supplies are depleted. We need to avoid a famine," Abdou Dieng, the WFP's country director for West and Central Africa, told Reuters.
Nigeria
Nigeria's Foreign Minister Geoffrey Onyeama said 26 million people have been affected by Boko Haram and the root causes need to be addressed.
He was speaking about the extremist group that remains a serious threat to regional stability.
In Nigeria, a seven-year uprising by the Islamic extremist group has killed more than 20,000 people, driven 2.6 million from their homes and shocked the world with the abduction of nearly 300 schoolgirls