2024 Olympics: Hungarian movement plans to run for parliament
Comments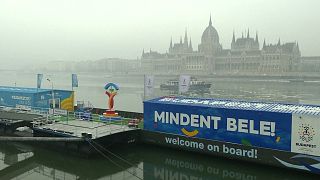 The youth movement which brought down Budapest's Olympic bid has announced plans to set itself up as a political party.
The Hungarian capital effectively abandoned its attempt to host the 2024 games on Wednesday.
It came after the group Momentum collected a petition with over a quarter of a million signatures to hold a city-wide referendum.
The president of the Momentum Movement András Fekete-Győr told Euronews: "The Olympics was a very good issue, as it concerns our future. It is not only about organising the Olympics but it's also about priorities in society. Finally we were able to have a discussion about this. In the last few years we haven't had this opportunity. This was taken away from us by Viktor Orban and his allies in a cowardly way.''
No opposition group in Hungary has had such an impact on a major issue since Prime Minister Orban rose to power in 2010. Momentum now plans to challenge him in parliamentary elections next year.
Public support for hosting the Olympics seemed to evaporate overnight during Momentum's campaign.
Speaking about the government's decision, the head of the prime minister's office János Lázár said: ''The unity and the cooperation that we had at the start has obviously been damaged. The government thinks the responsible thing to do now is for the authorities in Budapest and the national Olympic committee to no longer continue with this bid.''
Momentum now plans to set up action groups across Hungary.
Only Paris and Los Angeles remain in the running to host the 2024 games after Hamburg and Rome also dropped there bids.
From Budapest Euronews' Andrea Hajagos said: ''Last year there was a similar impact from a planned referendum against legislation closing all shops on Sunday. But before any signatures were even collected, the government decided to revoke the law.''