Bayrou and Macron seal a deal in France
Comments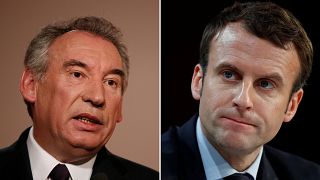 One of France's most influential politicians has dropped out of the presidential race to form an alliance with the independent candidate, Emmanual Macron.
The announcement by Francois Bayrou could tip the odds in favour of Macron getting into a runoff against far-right leader, Marine Le Pen.
"We are in an extremely risky situation, and to tackle this exceptional situation, I think we need an exceptional response," Bayrou said, describing his decision as "a sacrifice".
Francois Bayrou in his own words
J'ai décidé de proposer à Emmanuel #Macron une alliance pour offrir à la France une vraie alternance. #Présidentielle2017#ConfBayrou

— François Bayrou (@bayrou) February 22, 2017
"I have decided to offer Emmanuel Macron an alliance. The danger is too big, we must change things."
Describing French democracy as under threat, he said that the Conservatives under Francois Fillon were riddled with scandal.
The Socialists, whom he backed in 2012, are in disarray, Bayrou added.
"What is at stake with this alliance is to restore hope," he finished.
Could Bayrou have won the election himself?
Unlikely.
Pundits say Bayrou had little chance of reaching the runoff between the top two contenders.
Pollsters saw him as only getting around 5-6% in the first round.
Who is Francois Bayrou?
65-year-old former education minister
Has run for president three times
Polled 9% of the vote in 2012
"I don't know Emmanuel Macron"
Three weeks is a long time in politics.
Bayrou claimed in a series of tweets at the beginning of February that he did not know who Macron was or what he stood for.
Je ne sais pas – à cette date – qui est E. #Macron, quels sont son projet et son positionnement, avec qui il veut gouverner. #BourdinDirect

— François Bayrou (@bayrou) February 1, 2017
What has Emmanuel Macron said?
That he has accepted the alliance.
He says it is a "turning point in the campaign".
L'alliance proposée par Bayrou</a> porte sur les valeurs, les idées, s&#39;inscrit dans la démarche de rassemblement qui est la nôtre. Je l&#39;accepte</p>&mdash; Emmanuel Macron (EmmanuelMacron) February 22, 2017
Publishing a tweet, Macron said he accepted the alliance, which he labeled as a "turning point in the campaign".
Macron, a 39-year-old ex-banker and comparative political novice who has never held elected office, says he seeks to transcend the classic left-right divide in French politics and is drawing huge crowds to rallies that easily equal those of his closest rivals.
What do the experts say?
That this is a potential game-changer in France's tightly-contested election.
When is the election?
It is in two stages.
The first is on April 23 with a run-off vote between the top two candidates on May 7.
What do the polls say?
Opinion polls put Macron neck-and-neck with conservative former prime minister Francois Fillon to get into the run-off agains Front National leader Marine Le Pen.
Surveys suggest either Macron or Fillon would then go on to beat Le Pen in the final round.
Fillon was once the frontrunner to win the election.
However, his campaign has been hit hard by a scandal over salaries paid to his wife and two of his children out of public funds for work they may note have done.
Fillon insists they did do the work for which they were paid.
The polls predict little chance of the Socialists recovering enough to contest the election robustly after five years of unpopular rule by Socialist President Francois Hollande.
The business
Bayrou's announcement of support for Macron pushed the euro up against the dollar.
French bond yields, which had risen because of fears of rising support for Le Pen, fell around five basis points.