Syria: ISIL-linked groups launch attacks near Golan Heights
Comments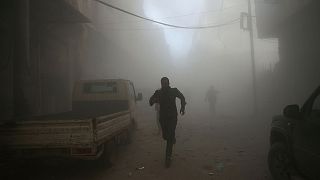 Fighting has reportedly flared near the Golan Heights in south western Syria after ISIL linked groups launched a surprise attack on moderate rebels.
Witnesses said the militants seized several villages near where the Jordanian and Israeli borders converge.
The heavy clashes in southern Syria come as US-backed militias continue a major offensive against ISIL near the extremist group's de facto capital Raqqa in the north of the country.
According to Kurdish media, Syrian Democratic Forces, captured the village of Jowis in eastern Raqqa province.
Meanwhile, monitors say at least seven people have been killed and a dozen wounded in an air raid on a neighbourhood in Damascus.
Government forces are reported to have escalated attacks on rebel-held areas around the Syrian capital over the past three days.
The civil defence group known as the White Helmets also released a video appearing to show a child being pulled out of rubble by rescue workers following an airstrike in Damascus.