Spanish police stop truck laiden with gas canisters at gunpoint
Comments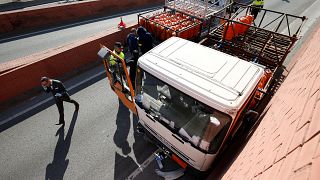 A Swede who stole a truck carrying dozens of butane gas bottles and drove it at speed in the Spanish city of Barcelona was suffering psychiatric problems and not attempting an attack, the government said on Tuesday.
"The detained driver of the stolen butane gas truck has a psychiatric history. It was not a case of a terrorist act," the Interior Ministry said in tweet.
About half the butane bottles were flung from the stolen truck as the man sped against the flow of traffic on the Ronda Litoral highway while he was closely pursued by police.
The man, 32, who was not carrying any form of weapon, hit a number of vehicles before crashing into a wall where he was removed from the cabin at gunpoint.