Azeri president boosts family ties by making wife deputy
Comments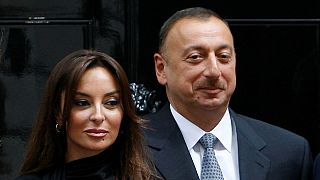 Azerbaijan's President Ilham Aliyev has appointed his wife, Mehriban, his deputy.
Her official title will be First Vice President. The post was created last year after a referendum on constitutional changes but the revision doesn't specify any duties.
One opposition leader denounced the move as a "first step towards establishment of an absolute majority."
Aliyev assumed the presidency of the oil and gas exporter in 2003 after the death of his father Heydar, whose rule stretched back to Soviet Times. Mehriban herself hails from one of the most wealthy and influential families in the country, the Pashayevs.