Israeli soldier jailed for killing prone Palestinian attacker
Comments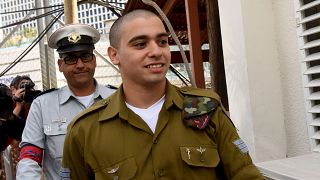 A young Israeli soldier who shot dead an incapacitated Palestinian assailant has been jailed for 18 months.
A military court last month convicted Sergeant Elor Azaria of manslaughter, a crime that carries a maximum sentence of 20 years imprisonment. Prosecutors had called for the army medic to spend three to five years behind bars.
The incident took place in Hebron in the occupied West Bank in March 2016.
The Palestinian man, Abd Elfatah Ashareef, 21, was involved in stabbing another soldier. Azaria, then 19, shot him in the head as he lay on the ground, ten minutes after being wounded.
During the trial, Azaria said he believed Ashareef, though motionless, still posed a danger because his knife was nearby and that he might have been carrying explosives.
Video footage of the shooting, taken by a Palestinian human rights activist, showed the knife was not within Ashareef's reach, and no bomb was found.
According to several opinion polls, many Israelis believe the case should never have gone to court.