Famine rears its head in South Sudan
Comments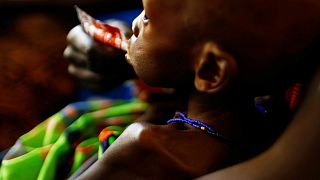 Parts of war-ravaged South Sudan have been hit by famine.
It is the first time famine has been declared anywhere since 2011.
Officials fear almost half the country could be in a state of food insecurity by July.
"In greater Unity State, some counties are classified in famine or…risk of famine," said Isaiah Chol Aruai, chairman of South Sudan's National Bureau of Statistics said at a news conference.
"Famine has become a tragic reality in parts of South Sudan and our worst fears have been realised," said Serge Tissot, the Food and Agriculture Organisation's representative in South Sudan.
Civilians pay ultimate price as South Sudan's leaders' brutal conflict destroys country and triggers famine https://t.co/PLqcIuMpbZpic.twitter.com/Gz2ls4wek2

— Gerry Simpson (@GerrySimpsonHRW) February 20, 2017
The stats
4.9 million people could be made food insecure between February and April.
That number could rise to 5.5 mlllion by July.
Experts have pinpointed the causes as:
the long-term effect of conflict
high food prices
low agricultural production
Famine has hit parts of #SouthSudan. Nearly 5M people urgently need food, agriculture & nutrition assistance → https://t.co/KqFxZnqLtgpic.twitter.com/JQ1UAqAVX1

— World Food Programme (@WFP) February 20, 2017
#Famine hits parts of #SouthSudan: 100,000 ppl facing starvation. 5 mln ppl need food, #ag & nutrition assistance https://t.co/IQGSr0YI2Kpic.twitter.com/e5HmsqlRrA

—

FAO

Newsroom (@FAOnews) February 20, 2017
Read the report here
The fighting
Oil-rich South Sudan has been mired in civil war since 2013, when President Salva Kir fired his deputy.
Since then, the fighting has increasingly split the country along ethnic lines.
The fighting has uprooted more than three million people.
The UN has warned of the potential for genocide.
The economic knock-on effect
The fighting has prevented many farmers from harvesting their crops.
A UN report released on Monday said continuing displacement represented "heightened risks of prolonged (food) underproduction into 2018".
Hyper inflation, which reached more than 800 percent last year, has put the price of imported food beyond the reach of many.
Parts of the country have also been hit by drought.
How do they decide when to declare a famine?
According to the UN, famine is declared when:
at least 20%of households face extreme food shortages
acute malnutrition rates exceed 30%
two or more people per 10,000 are dying per day
According to the UN, famine is declared when at least 20% of households in an area face extreme food shortages… https://t.co/xWylh7BfBppic.twitter.com/Rkn55g4vdR

— Reuters World (@ReutersWorld) February 20, 2017