Tony Blair urges Britons to ''rise up'' against Brexit
Comments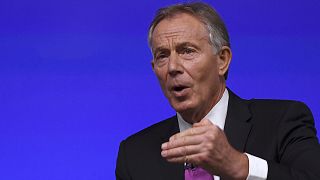 Brexit ''is not inevitable'' and can be stopped by the will of the people.
That is the view of former British prime minister Tony Blair who has said he will make it his ''mission'' to persuade Britons to ''rise up'' and change their minds about leaving the EU.
Speaking in the city of London, Blair accused Theresa May's government of pursuing ''Brexit at any cost'' and insisted it must be challenged.
"Yes, the British people voted to leave Europe and I agree the will of the people should prevail. I accept right now there is no widespread appetite to rethink. But the people voted without knowledge of the terms of Brexit. As these terms become clear, it is their right to change their mind. Our mission is to persuade them to do so," Blair said.
The speech is Blair's first major intervention since the UK voted 52 to 48 percent to leave the European Union.
His words have already been attacked by Brexit supporters, who have accused the former prime minister of arrogance.
Theresa May has vowed to start the legal process to leave Europe next month.